The Annual Fund is VAM's annual giving program supported by generous VAM donors, parents, students, alumni, and friends. Gifts to the Annual Fund are unrestricted in purpose and used in the areas of greatest opportunity. These gifts are referred to as "Annual" or "Current Use" as they are solicited annually and spent in its entirety during the same fiscal year in which they are received (July 1 – June 30).
Contributions to the Annual Fund enable VAM to:
meet core and immediate needs
respond quickly to exceptional opportunities that support innovations in teaching and learning
provide funding to enhance performance and teaching facilities
A healthy Annual Fund is critical to the strength of VAM in continuing to be a strong educational asset for our students and a vital resource for our community.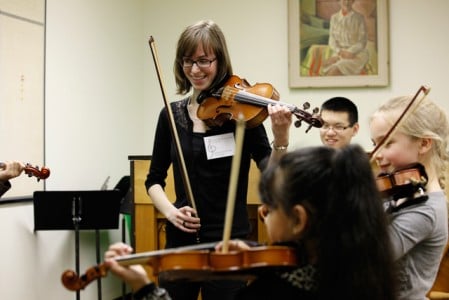 Your gift can positively touch all of our students – here are some examples of what a donation can enable:
$50 – Buys 1 quality music stand and renews our fleet of indispensable companions at lessons and concerts
$200 – Helps 1 piano keep its pitch and sing in-tune all year long
$500 – Score and parts for 2 orchestral works used in VAM's Orchestral Programs
$1,000 – Provides VAM students with 1 stimulating Distinguished Artist master-class, workshop, or project to encourage new approaches to cre­at­ing, learn­ing, rehears­ing, and per­form­ing music
Give today – every gift counts!